This post may contain affiliate links to tours and hotels. These help us earn a small commission at no additional charge to you.
"Don Don Don, Donki, Don Don Donki…" – you know you've arrived at a Japan Don Quijote or MEGA Don Quijote store when you hear the legendary theme tune on loop!
Welcome to Don Quijote, Japan's most famous discount store, with a cartoon penguin as the main mascot (Donpen).
Don Quijote department stores are home to thousands of items generally at low prices, from sneakers to stationary, Hello Kitty to Kit Kats (plus more interesting 'adult sections').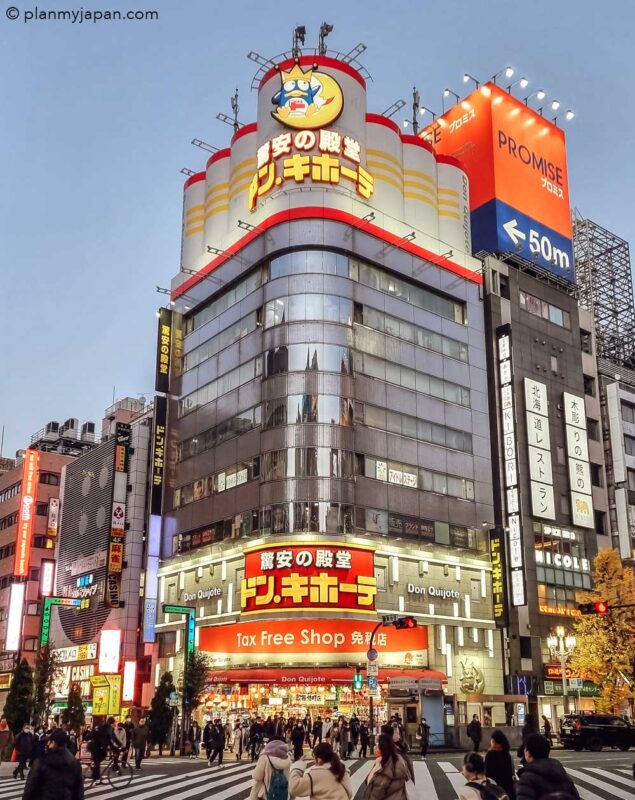 There truly is no other Japanese store like Don Quijote and no visit to Japan is complete with a visit to one of the hundreds of stores in Japan.
No two Don Quijote stores are alike in Japan and we'll even tell you about the special Don Quijote stores you can visit like the Osaka Don Quixote ferris wheel or the unique Don Quijote Susukino, Japan's first Night Donki!
From the Don Quijote characters to some of the more unique Don Quijote branded merchandise (a Donpen drone anyone?), here is our guide to experiencing Don Quijote in Japan:
The legend of Don Quijote
Talk to any traveller who has been to Japan and it won't be long before conversation likely turns to Don Quijote, a famous Japanese discount store that has over 600 stores in Japan (and other overseas branches).
Each Don Quijote store is unique with its own Donpen and Don Don Donki cartoon flourishes, but generally, each has several floors jam packed with discounted goods.
Similar to Walmart or Kmart in the USA or B&M / Home & Bargain discount stores in the UK, Don Quijote is a joyful Japanese shopping experience with low prices (and one helluva catchy theme tune!)
If you are heading to Japan for the first time, make sure you check out at least one Don Quijote store – and leave room in your suitcase / backpack to bring back Don Quijote gifts.
Better yet, buy a cheap new suitcase at Don Quijote and fill it full of gifts and goods!
You might like – Don Quijote Tourist Privilege Discount Coupon >
---
You might like – Mt Fuji, Hakone Lake Ashi Cruise Bullet Train Day Trip from Tokyo >
---
The history of Don Quijote stores in Japan
One of Japan's largest shopping and discount store chains, Don Quijote Japan was founded by Takao Yasuda and opened its first store in Tokyo in 1980, under the name 'Just Co'.
Fast forward a few years later and their first "Don Quijote" branded store opened in Tokyo in 1989.
After years of rapid growth spurred on by the economic recession and more savvy discount hungry shoppers, there are now over 700 stores worldwide (with the vast majority in Japan).
Legend has it that the Don Quijote Japan title mirrors the literary character Don Quixote (written by Miguel de Cervantes) – both 'Dons are 'knights' who want to do good for the general public (so 'cost-cutting' and battling prices in Don Quijote's case).
From Fukuoka to Tokyo, Osaka to Sapporo, you'll find a Don Quijote store in most Japanese cities – in Tokyo alone, there are over 55 Tokyo stores including multiple MEGA Don Quijote stores.
MEGA Don Quijotes are the large super stores that generally have several storeys of shopping and tens of thousands of products.
Don Quijote founder Takao Yasuda is still alive today (he turned 74 in 2023) and is said to be worth around $4 billion USD according to Forbes magazine – who thought a blue little penguin called Donpen could make someone so rich?!
---
You might like – Ghibli's Grand Warehouse, Ghibli Park, Japan Review >
---
How many Don Quijote stores are there in Japan?
As of 2023, there are now over 600 Don Quijote stores in Japan with more new Don Quijotes' opening all the time.
You'll find the largest numbers of Don Quijote stores in the larger cities – so for instance, there are over 50 Tokyo stores (including several MEGA Donkis) and over 30 stores in Osaka (including 10 MEGA Don Quijotes). Store numbers correct as of September 2023.
Do you love all things Don Quijote and Don Don Donki? Join our Don Quijote and Don Don Donki Fans Facebook group!
Introducing Donpen and Donko
One of the reasons why these stores are so popular in Japan (apart from cheap prices and the huge selection of goods) is because of their famous cartoon character mascots.
The Don Quijote cute cartoon character mascots are Donpen the blue penguin (complete with a red nightcap) and his 'lady friend' Donko.
Donpen is a blue Antarctic penguin born on 8 September that now lives in Tokyo. Donpen has such a big following both instore and online (check out his social channels), and even had his own book published in 2023.
Donpen was created in the late 1990s and is dotted all around the Don Quijote stores from stickers and floor decals to big Donpen statues.
For instance, you'll find Donpen on a tuk-tuk outside all the major Thailand Don Don Donki stores (as they are known there).
You can even buy Donpen Don Donki plushes (more on Donpen merchandise later).
The other cute and charming character is Donko, a pink penguin who is slightly more enigmatic and veiled in 'mystery' (we aren't making this up).
Donko is likely Donpen's girlfriend too (based on all the love hearts we've seen between them on in store merchandise!)
---
You might like – Official Street Go-Karting in Shibuya Tour >
---
2022 Don Quixote Mascot Controversy
Don Quixote made the news for all the wrong reasons in late 2022 as plans were announced to replace Don Quijote's beloved Japanese mascot Donpen the Penguin with a more corporate logo.
Donpen was set to be replaced with a new logo shaped like the Japanese Katana alphabet character "ド.
Many of Don Quixote's long standing fans and shoppers were outraged at the potential removal of the loveable Donpen and Donko mascots so Don Quixote's founder quickly backtracked.
Even Donpen posted his dismay at the change so many think this may have all been part of an elaborate publicity stunt – either way, Don Quixote's blue penguin Donpen mascot is here to stay. Hooray for Donpen!
Things you can buy in Don Quijote Japan
Part of the sheer joy of walking around the Japan Don Quijote stores (particularly the MEGA Don Quijotes) is the sheer range of products and goods, across several storeys.
Whilst the merchandising can be a little messy sometimes, there are lots of bargains to be had from air fryers to apples, sushi to samurai style umbrellas.
Some of the most popular things to buy at Don Quijote in Japan include:
Cute Kawaii Characters Merchandise – Hello Kitty and Studio Ghibli
Every store has a cartoon section where you can buy cute character merchandise like Hello Kitty, Doraemon, Sumikko Gurashi, Studio Ghibli and Peanuts.
You'll also sometimes see Sanrio collaborations like T-Shirts with Hello Kitty and their Donpen character – Kawaii cuteness overload!
Kit Kats
Kitto Katto heaven! Are you a big fan of Japanese Kit Kats? Want to try all the Japanese Kit Kat flavours, including Kit Kat wasabi or Kit Kat matcha latte?
Head to Don Quijote, one of the biggest sellers of Kit Kats in Japan. Don Quijote Kit Kat chocolate sections are legendary with row upon row of Kit Kats – it truly is a thing of beauty (tasty too!).
Recent new 2023 Japan Kit Kat flavours include Kit Kat chocolate mint ice-cream, Kit Kat Lemon and Kit Kat Peach.
Check out our guide to the best Kit Kat flavours in Japan >
Sushi and Bento Boxes
The larger Don Quijotes often have sushi and bento box sections in the supermarket section. This is often some of the cheapest snacks you'll find (although not often the best).
Hot Sweet Potatoes
Close to the entrance of all Japan Don Quijote stores (and in Donki stores overseas), you'll find a hot cabinet selling Donpen branded hot sweet potatoes.
Very popular, they sell like hot cakes sweet potatoes. A very cheap snack to try whilst in Japan – Donki approved!
Alcohol section – sake / beer / wine
Beer, wine and spirits are always very cheap and often cost less for alcohol than in convenience stores like 7-Eleven and Family Mart.
Better still, most stores have chiller cabinets / fridges that have a small selection of cold beers and alcopops / spritzers – so you can enjoy an ice cold Asahi beer on a summer's day.
We also found whiskey to be very cheap in Don Quijote Japan stores, around a third to half the price of the same whiskey brands back home in the UK.
Groceries, food and bakery
Some MEGA Donkis have supermarkets and fresh food sections, selling fresh fruit and vegetables, baked goods and huge chiller sections.
The smaller stalls generally just sell dried/ packet food goods like instant noodles and sweets / confectionery.
---
You might like – Tokyo Bar Hopping Night Tour in Shinjuku >
---
Technology
From televisions to toasters, hair dryers to dehumidifiers, there is lots of top technology to buy at Don Quijote Japan.
We've even seen a Donpen branded dehumidifier in several branches, where the steam shoots out of Donpen's penguin mouth – cuteness overload!
Clothing
Don Quijote has huge clothing and sporting goods sections, selling all weather clothing from rain jackets to tennis shoes.
As well the usual brands like Nike and Calvin Klein, you can also find designer goods at Don Quijote including Gucci and Hermes – so make sure you bring that credit card for any unexpected luxury purchases.
Skincare, Beauty Products & Healthcare
Most Don Quijote stores in Japan have a whole floor or two dedicated to skin creams, shampoos and other beauty products.
Don Quijote often has skincare product sales and this section is very popular with Japanese youths.
You can also buy Donpen branded bath bombs – if you fancy sharing your bath with a penguin!
---
You might like – Tokyo Grand Sumo Tournament Viewing Tour >
---
TENGA
Possibly the most 'interesting' thing you'll see in a Don Quijote store, TENGA is a popular 'self-love' brand in Japan.
Essentially, you'll see TENGA suction cups, lubes and 'fleshy' toys in every Don Quijote store and not necessarily in the adult section.
TENGA suction cups are big business in Japan accounting for ¾ of TENGA's business – it must be fantastic plastic!
Luggage
If you want to stock up on Japanese gifts or Kit Kats before you go, you could always buy a second suitcase or backpack at Don Qujiote. 'Bag' yourself a bargain!
Souvenirs
From maneki-neko (waving cats) to Tokyo themed T-shirts, there are lots of tourist souvenirs to take home from Don Quijote – whilst there, make sure you buy a Donpen Donki branded bag to take it home in.
Gachapon
Gachapon are the cool capsule toys you get in Japan – we love gachapons so much we've written a dedicated guide to the coolest gachapons we discovered in 2023.
Most Don Quijote stores have gachapon machines by the main entrance such as the Don Quiijote Shinjuku.
The biggest Don Quijote gachapon section we found was at MEGA Don Quijote Shinsekai in Osaka and in Shibuya where there are dedicated gachapon areas.
Adult Section
'Playtime' for the adults at Don Quijote! Don Quijote Japan sells all manner of toys and we aren't just talking about LEGO or Tomica!
Of the more famous / fun (delete as appropriate) sections you'll find in all Don Quijote Japan stores is the adult section (naughty Don Donki!).
Usually a curtained off section on the upper levels plastered with 'Over 18s only / R18', these sensual and alluring sections sell all manner of adult toys, from anatomically correct dolls complete with 'openings' through to wonderful willies and the like. Take a look at the TENGA 'suction' section too!
At Don Quijote, you'll find provocative chocolate shapes plus sultry anime plastic dolls and other adult orientated toys and games. Don Penis….sorry…Donpen is not present in these sections!
Designer Fashion
As Don Quijote is popular for fashion clothing, you'll see a whole range of branded goods from Nike to Sketchers, Calvin Klein to Vivienne Westwood. Interestingly and perhaps unexpectedly, you are as equally as likely to see Louis Vuitton or Hermes handbags.
Many people have asked whether the designer and luxury fashion items are counterfeit or fake at Don Quijote but they are all genuine.
Don Quijote puts this down to their massive buying power and ability to do 'parallel imports'. Furthermore, they are members of the 'Japan Association Against Counterfeit Product Distribution'.
So there should be no fakes or counterfeit goods at Don Quijote!
Don Quijote Restaurants / Don Don Donki Restaurants
Based on our own observations (and we have been to dozens of Don Quijotes in Japan), no Japan Don Quijotes have their own restaurants.
Many Don Quijotes often have higher floors with restaurants (like Asasaka) but they are not Don Quijote restaurants.
That said, many of the overseas Don Don Donki branches do have their own restaurants like the 24/7 ramen store at Don Don Donki Silom in Bangkok.
There are also Don Don Donki SEN SEN SUSHI restaurants operating overseas in countries such as Thailand, Malaysia and Singapore.
Don Quijote 10 Yen Cheese Pancakes
One common theme we noticed amongst our Don Quijote store trips across Japan is that some of the larger stores have incredibly popular 10 Yen / ¥10 cheese pancake concessions or stores on the inside or outside.
These sublime stringy cheese snacks are shaped like a ¥10 Japanese coin (alas they cost a lot more than 10 Yen!)
For instance, the MEGA Don Quijote Shibuya had a 10 Yen cheese pancake store inside and the queue always went half way around the store – so check out these oh so cheesy snacks in Donki!
Fish tanks and aquariums
A common theme amongst most large MEGA Don Quixotes is the presence of fish tanks and aquariums around the main entrance, often full of brightly coloured fish (or huge eels!) to entice shoppers.
We've seen several Don Quijote fish tanks that have the Donpen mascot inside too (not an actual real penguin) – the attention to detail is usually pretty good and hey, penguins love water so all good!
Don Quijote regional theming
One of the best things about visiting different Don Quijote branches across Japan is that every store is unique with different graphics and branding.
Every time we visited a new city, we'd make sure that if we ever passed a Don Quijote store, we'd pop into to see what Donpen theming or merchandising it had.
For instance, we visited a MEGA Don Quijote in Yokohama where the basement section had an underwater theme which included Donpen in a submarine and ocean graphics, whilst Kyoto had a bamboo forest theme.
Special Don Quijote theme park rides
Some Don Quijote stores in Japan are more memorable than others and have special features like theme park rides and amusements.
The best stores in Japan with unique attractions and features include:
Dotonbori Osaka Ferris Wheel
Yes, you read that right – there is a Don Quijote ferris wheel in Japan!
Accessible via the Don Quijote Dotonbori store in Osaka and looking out over the river, this Osaka ferris wheel is one of the best ways to see the Osaka cityscape from up high – and this might be the only time you'll see a penguin fly (Donpen is all over it).
One of the most fun things to do in Osaka, we rode the Ebisu Tower Ferris Wheel in 2023. It opened in 2005 and is a rare elliptical oval Ferris Wheel that is almost 80 metres in height.
The Ebisu Tower Ferris Wheel in Dotonbori Osaka costs 600 Yen per adult, as of summer 2023 – expect to queue a little before getting on board, especially during peak tourist season.
Japan's first Night Donki in Susukino, Hokkaido
Located in Sapporo in Hokkaido, Don Quijote Susukino is Japan's first 'Night Donki' which opened in late 2022.
A Don Quijote store like no other, this Night Donki branch opens later and sells huge volumes of alcohol (including chilled sake), late night snacks and beauty products.
It has purposely been tailored to attract partygoers and revellers in in Sapporo's Susukino neighbourhood, popular for its nightlife and hedonistic clubs.
The Susukino Night Donki has lots of cool themes like neon lights plus a statue of Donpen serving champagne and a bling staircase to the basement – let's go party in Sapporo Don Quijote!
Akihabara store AK48 theatre show
Although not officially affiliated with Don Quijote, the Akihabara branch has the world famous AK48 J-Pop girl band theater on its upper levels (which you access via the Don Quixote escalators).
Over 4,000 J-Pop concerts have been held here and the small rooftop theatre means you can get up close to the stage and bop along with your glow-stocks.
Tickets to the AK48 J-Pop girl band theater are usually available by lottery, such is their popularity.
Don Quijote rollercoaster in Roppongi, Tokyo (completed but never opened)
A "half-pipe" dream, there were once plans for a roller coaster on the roof of its Roppongi store in Tokyo.
The Don Quijote rollercoaster was completed in 2006 but alas never got to open to the public – there was opposition from local community groups who thought it would create too much noise and attract crowds.
What is the biggest Don Quijote in Japan?
In other words, which is the most mega of the MEGA Don Quijotes?
The biggest Don Quijote in Japan is the MEGA Don Quijote Shibuya in Tokyo – we were lucky enough to visit the store and it is massive!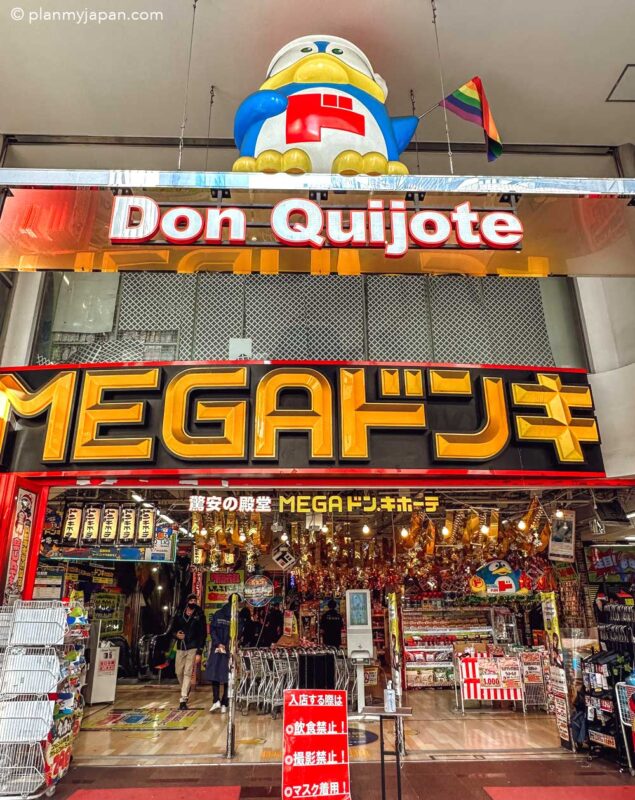 Based over six floors including a basement section that had party wear and alcohol / beer.
MEGA Don Quijote Shibuya is always busy and is open 24 hours a day – it is also one of the best places for tourists to buy beer (man, those queues were long).
The Shibuya branch also had one of the largest adult sections on the fifth floor – so something for everyone at Japan's largest Don Quixote!
What are the Don Quijote opening hours in Japan?
Some (but not all) Don Quijote stores are open 24 /7, usually in the bigger cities like Tokyo and Osaka.
Those Don Quijotes in larger cities that are not 24/7 usually stay open until the early morning, closing at 3am or 5am and reopening a few hours later.
The smaller or more rural stores in Japan generally open at 8am and close at midnight.
---
You might like – Warner Bros. Studio Harry Potter Tour Tokyo Ticket >
---
Don Don Donki International – Don Quijote goes Global
Don Quijote isn't just confined to Japan – this Japanese discount store has branches in overseas countries using the international name Don Don Donki.
As of 2023, there are international Don Don Donki's in seven countries including:
Don Don Donki Malaysia
Don Don Donki Taiwan
Don Don Donki Macau
Don Don Donki Singapore
Don Don Donki Hong Kong
Don Don Donki USA – Hawaii and California (Honululu and Hawaii is a big growth area with over 20 stores)
Don Don Donki Thailand – there are 6 Don Don Donkis in Thailand (5 Bangkok + one Sriracha) plus three Don Don Donki Sen Sen Sushi branches in Bangkok.
Picasso Stores Japan and other Don Quijote brands
Don Quijote has a range of store formats and titles, including smaller Picasso stores (kind of Don Quijote lite), giant MEGA Don Quijotes and also a Platinum Don Quijote selling luxury and premium goods.
Don Quijote Picasso store locations include Picasso Akasaka, Picasso Shinkoiwa and Don Quijote PICASSO Koiwa Ekimae Store.
---
You might like – Tokyo Disney Resort Park Ticket with Klook >
---
Donpen Merchandise
Don Quixote's penguin mascot Donpen features heavily on their branded merchandise and often does collaborations with other cute Kawaii or video game characters.
We've seen a Donpen x Streetfighter video game T-shirt plus some Sanrio X Don Don Donki collabs.
Some of the more interesting Don Quixote Donpen branded merchandise includes:
Donpen underpants!
Donpen top with hood!
Donpen shopping bags (all regionally themed)
Donpen drone/helicopter toy
Donpen and Donko Ghostbusters t-shirt
Tax free shopping at Donki
Don Quixote stores have tax free shopping in place for visitors from overseas. International customers who do not live in Japan can purchase items without consumption tax on items they take back home as souvenirs.
You must present your passport or landing permit in store to get tax free shopping.
One of the key criteria for tax free shopping is that these specially packaged consumable products must not be opened until you have left the country.
Tax free purchases in Japan for overseas visitors only apply to a total purchase amount of ¥5,000 or more (excluding tax/after discount has been applied), or ¥5,500 (including tax).
Many Japanese stores like Don Quijote and BIC Camera have Tax Free counters – so get shopping and enjoy some cash back!
Specially packaged consumable tax-free products must not be opened until you have left the country.
If you have a favourite or unusual Don Quijote store we need to visit next time, please ket us know in the comments!
Did you enjoy our blog post? Let us know in the comments or by sharing it on social media.
You can follow us on:
Instagram
Tik Tok
Facebook
Pinterest
YouTube
You might also like
Super Potato – Retro Game Store in Akihabara and across Japan
Guide to Kit Kat Flavours in Japan!
Ghibli's Grand Warehouse, Ghibli Park Review
Gachapons in Japan – the Coolest Gachapon Capsule Toys
Best Japanese shops and supermarkets in London